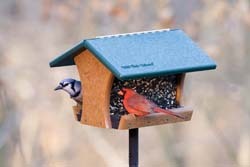 A Bird Feeding Classic
Imagine a wood-free bird feeder that actually looks like wood! Our EcoTough® Classic won't crack, fade or rot and has a lifetime guarantee. The Classic has curved ends so you can see birds feeding on both sides at the same time. Perch drains allow seed to drop out of the feeder for ground-feeding birds to eat, and angled perches let empty seed hulls be blown away by the wind.
EcoTough feeders and houses are environmentally friendly, high quality products that are made from recycled plastic milk jugs. These feeders and houses prevent used milk jugs from making their way into our landfills.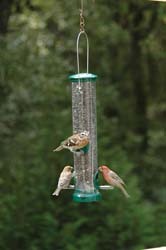 See What's On The Tube Today
It's always entertaining birdwatching when chickadees, cardinals, grosbeaks, titmice and finches stack up on our tube feeders. Most birds that prefer to feed at an elevated feeder will visit a tube feeder; our tube feeders are popular because they come in a variety of sizes and seed capacities and efficiently dispense a wide variety of seed.