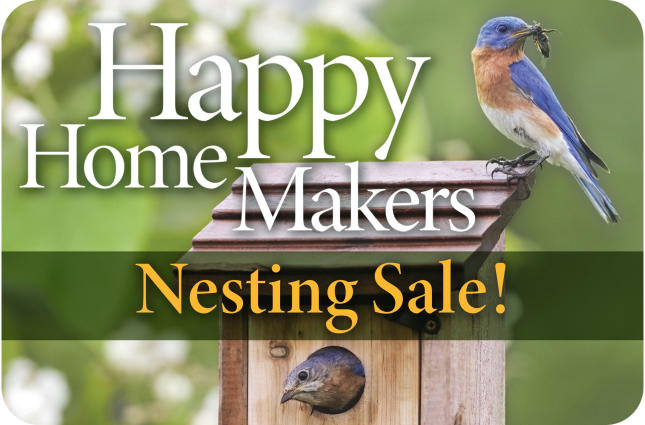 Nesting season is one of my favorite times of year. Providing birds nesting boxes or birdhouses gives us a great chance to observe and appreciate our birds not just for their beauty but also for their ingenuity, diligence and care as parents. Nesting birds are a great deal of fun to watch. They are incredibly active flitting around courting, making nests, feeding their mates, nestlings and fledglings.
I have a Carolina Chickadee already nesting in one of my boxes, so it is the perfect time to put out a box or house. I will be sharing updates on the progress of her nest on our Facebook group, Backyard Birds of Central New Jersey. We would love for everyone to post photos and videos of their backyard visitors to the group as well by clicking on the link below.
- Rich Elliott, Owner

Wild Birds Unlimited of Scotch Plains Nesting Sale has been extended and improved.
All Nest Boxes and Houses now 20% OFF!
(Expires: 6/21/20 or while supplies last)
These discounted boxes and houses may be purchased by phone order only for shipping or delivery only.
Please call (908) 233-5004 during our temporary hours:
Monday thru Saturday 10 AM - 3 PM
(Closed Sunday)
Chickadee Nest Box

Price: $39.99

Sale Price: $31.99

Titmouse Nest Box

Price: $39.99

Sale Price: $31.99

Nuthatch Nest Box

Price: $39.99

Sale Price: $31.99

Eastern Bluebird House

Price: $42.99

Sale Price: $34.39

Downy Woodpecker House

Price: $49.99

Sale Price: $39.99

3 Woodpecker House

Price: $56.99

Sale Price: $45.59

Screech/Saw-Whet Owl Box

Price: $62.99

Sale Price: $50.39

Nesting Perch

Price: $32.99

Sale Price: $26.39

EcoTough Bluebird

Price: $72.99

Sale Price: $58.39

Fruit Coops

Price: $40.99

Sale Price: $32.79

Teapot Nester

Price: $29.99

Sale Price: $23.99

Copper Bluebird House

Price: $98.99

Sale Price: $79.19

Copper Wren House

Price: $98.99

Sale Price: $79.19

Swirlie Bird

Price: $84.99

Sale Price: $67.99

Bluebird Bunkhouse

Price: $82.99

Sale Price: $66.39

Bluebird Brights

Price: $78.99

Sale Price: $63.19

Boyd's Bungalow

Price: $178.99

Sale Price: $143.19

Vintage Wren

Price: $68.99

Sale Price: $55.19

Wren in the Wind

Price: $56.99

Sale Price: $45.59

Chick House

Price: $54.99

Sale Price: $43.99

Pineywoods Chapel

Price: $124.99

Sale Price: $99.99

Graceland Chapel

Price: $98.99

Sale Price: $79.19

Tudor House

Price: $154.99

Sale Price: $123.99

Steam Piper

Price: $92.99

Sale Price: $74.39