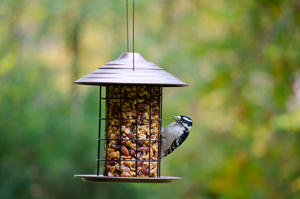 Your Seed Cylinder Sanctuary
Unique bird food requires a unique bird feeder. Our Seed Cylinder Feeders are the perfect blend of creative design and bird feeding functionality. Whether you want to attract clinging birds such as woodpeckers or perching birds like chickadees, these feeders will accommodate a variety of birds and their eating preferences.
One of the nicest features of a seed cylinder feeder is the extended views you get of the birds as they work the seed off the cylinder. Seed cylinder feeder have less debris and loose seeds cast off as well so they are a good feeder for areas where you want to see the birds but do not want a lot of mess.
They're easy to fill and are capable of housing our small (2 lbs) or large (4.5 lbs) seed cylinders as well as our Seed and Suet Stackables. (Bird food not included.)
Dinnertime!
Invite birds to a delicious meal with our Dinner Bell™. Fill this versatile bird feeder with our Peanut Harvest Blend, some Suet Snacks, seed cylinders or mealworms and see how many different birds you can attract. The Dinner Bell's dome raises and lowers, allowing you to feed only the birds you want. The dome also provides birds and food protection from nasty weather. It's easy to fill and clean and comes with a lifetime guarantee.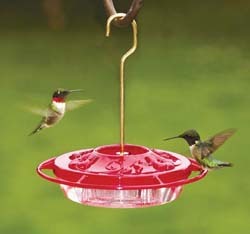 Hummingbird Feeders
These specially designed feeders have built-in ant moats to keep bugs out and feeding ports that prevent rain water from diluting the nectar solution. They're easy to hang or pole-mount and easy to clean (top shelf dishwasher safe). They're also backed with a lifetime guarantee.