The Prop-er Way to Eat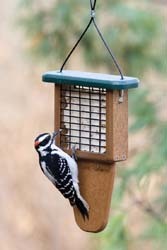 The EcoTough® Tail Prop Suet Feeder lets birds eat in a natural way. The paddle simulates a tree trunk and offers birds a place to prop their tail while they feed. Our feeder holds one suet cake, is easy to fill and hangs anywhere.
EcoTough feeders and houses are environmentally friendly, high quality products that are made from recycled plastic milk jugs. These feeders and houses prevent used milk jugs from making their way into our landfills. EcoTough feeders and houses won't rot, crack, fade or warp like wood can. They also come with limited lifetime guarantees.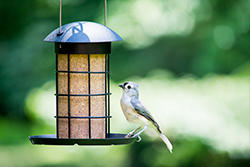 Suet Cylinders for Your Backyard Birds
A New Way to Offer Suet to Your Birds
Long-lasting and easy-to-use, our No-melt Suet Cylinders are an easy way to offer a high-energy, high-fat food to clinging and perching birds. Offer No-melt Suet when seasonal temperatures are above 95º F. Our No-melt Suet is rendered and refined to remove impurities that cause spoilage, and it's designed to withstand temperatures up to 130° F.